Send us photo's of your Trophy Harvest and we'll include them here for everyone to admire!
Best of Luck, Larry Stephens

Jordyn Way with a super Osceola Tom she harvested with Mike Mandel on private land. The double bearded gobbler had and 11 3/4″ main beard and 9 1/4″ secondary with 1 1/4″ spurs! Awesome!
Joe Ackerman's  Daughter Samantha, 9 yrs old killed this nice bird with a crossbow  in Illinois. He had 1 inch spurs 8 1/2 inch beard. The Tom was called up with a Bull Creek Custom Calls – "SWEET SPOT". Joe had a Jake & hen decoy deployed but related that he ran 200 yds to get to their setup! Great job Guys!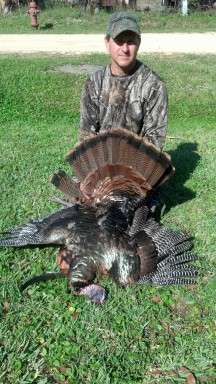 Mr. Rick Edwards triple bearded Trophy Gobbler, Flagler County Florida

Morgan Stephens with her first turkey. Taken during the Youth hunt with Bull Creek Outfitters.
Ricky Hathcock's Apalachicola Gobbler. Christian Shane called this bird in for his brother. This was his first turkey hunt!  His gobbler sported a 9 1/2″ beard and 1.25″ spurs.
Rick Edwards Trophy is still flying! Unfortunately, all we have as evidence is an empty shotgun shell. It happens to the best sooner or later!
Rick Edwards and friend Mike team up to take and Osceola double on Easter. Look at the dark primaries on the wings of those birds. Note the strutted off wing tips on the bird on the left. Looks like they were clipped off with scissors!
Steve Bailey's Monster 5 bearded Osceola taken in Putnum County, Fl., Guide- Larry Stephens
Christian Shane's Trophy Gobbler, 9 inch beard, 1 1/4 inch spurs. Apalachicola fl. Christian actually coaxed this bird to fly across a creek to him! Sounded like an Awesome hunt, I would have liked to have been there for that hunt!

Here's a fine Eastern taken by Michael Dunn of Michigan during the 2013 Spring Season. This bird had some nice eyes on the tail primaries. Osceolas typically will not show this characteristic.
Unusual trophy – banded turkey from Ohio. The banded jake is on the left with my friend Ben Shuman, that is me on the right with a gobbler, and Marlin Watkins, the currently very famous paddle call maker, standing next to my buddy and the jake in the middle